Special Parliament Hill Ice Rink to Close Out Canada 150
By
Admin
on October 12, 2017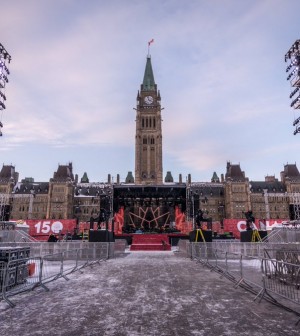 Back in 2016, the NHL bid to have an official game hosted on the doorstep of Parliament Hill. Ultimately, it was an idea that fell through. But now, as the Canada 150 celebrations come to a close in the final months of the year, Canadian Heritage will be joining forces with the Ottawa Senators to build a rink in front of the historical building. It will be a full, NHL sized rink, and will conclude the anniversary with free admission.
It is expected that more than just skating will occupy the rink as light displays and multimedia shows with pyrotechnics will make the space feel even more special. The rink will hold seating for a capacity of one thousand people, with benches and other accommodating features. Some of the events will include an Ottawa Senators practise among a lavish new years eve celebration on the hill.
Opening on December 7th and closing on the last day of the month, the rink will surely be a popular staple of the early winter months, drawing in some last minute tourists to Canada's capital. And although the NHL game in this venue didn't pass, there will still be an outdoor game hosted at TD place for the first time in the city's history.