Southampton's Ralph Krueger willing to coach in the NHL again, but only if the 'fit is right'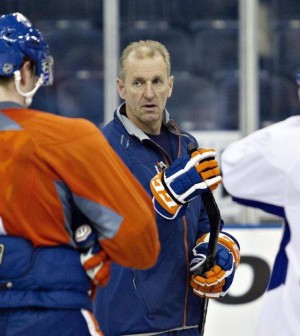 He may be enjoying his time as chairman of the Southampton Football Club, but Ralph Krueger can't get the possibility of returning to the NHL out of his mind.
According to reports, the longtime hockey coach is open to accepting a head coaching gig in the NHL, but as the team offering the job is a great fit for him.
The 59-year old Winnipeg native had previously been the head coach of the Edmonton Oilers during the 2012/13 season after many years coaching overseas in German and Austrian club teams along with a stint as the Swiss men's national hockey team bench boss. But his time in the NHL was short lived.
The Oilers relieved him of his duties after finishing with a 19-22-7 record during the lockout shortened season that year.
His most recent hockey related gig was when he lead to a Team Europe to an unexpected second-place finish at the 2016 World Cup of Hockey.
He has been employed by the Southampton since 2014. He was promoted to chairman of the Football Club after a short stint as director.