Sinclair "shocked and saddened" by Herdman's departure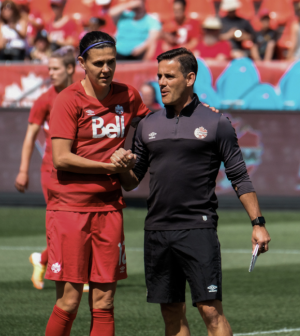 The Canadian soccer world are still feeling the effects of the John Herdman hiring.
The 42-year old, who had been coaching the Canadian women's national soccer team since August 2011 and led them to a Gold medal at the 2011 Pan American Games and a Bronze medal at the 2016 Olympics, sent shockwaves through the Canadian soccer community by switching positions and replacing Octavio Zambrano as the men's national team head coach earlier this week.
Among those at a loss for words is Christine Sinclair, the long-time leader and captain of the Women's team. After initially tweeting "speechless right now…." when the news broke, Sinclair took to Twitter hours later to clarify her original statement and further express her feelings about Herdman's departure from the team.
"Just to clarify, John did speak to me before the announcement was released," said Sinclair via her personal Twitter account.
"Still shocked and saddened the man who changed soccer in Canada and my life won't be leading #canWNT any longer. There is no doubt he will succeed in this next chapter as well."
The Herdman news is a surprise to many considering Zambrano had produced positive results in his short tenure with the men's team. Canada went 3-2-2 under his tutelage, and managed the reach the quarter-finals at the 2017 CONCACAF Gold Cup, which was the first team the national team made it to the knockout stage of the tournament since 2009.
Herdman had previously coached the New Zealand women's national soccer team from 2006 to 2011, and has no previous coaching experience in the men's game.