Shaquille O'Neal's son to miss freshman season at UCLA due to heart condition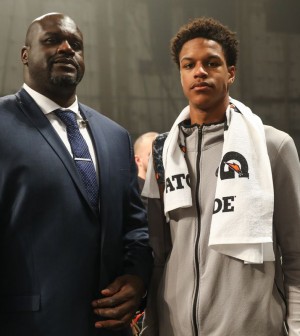 Shaquille O'Neal is going to have to wait at least another year to see his son Shareef O'Neal play ball at UCLA.
The 18-year old announced Friday that he will not be able to play in his freshman season with the Bruins after doctors discovered issues with his heart that will require surgery.
"The other day during a routine checkup we found a medical issue dealing with my heart," O'Neal told TMZ Sports this week.
"Thank God the UCLA medical staff found it early but I will not be playing this season and I will be a medical redshirt."
Will his heart condition put an end to his basketball career? He doesn't seem to think so.
"A lot of people are asking if it's career ending. The answer is absolutely not," added O'Neal.
"It's just a little bump in the road and I'll be back in no time."
O'Neal was initially supposed to play for the Arizona Wildcats but changed his mind earlier this year after allegations surrounding the school making illegal payments a year earlier to former standout Deandre Ayton in order to ensure he commits to the school. Shortly after, the Los Angeles native backed out of his agreement with Arizona, and decided to play for his hometown school at UCLA in February.