Serena Williams Talks Post-Baby Complications
By
Admin
on February 20, 2018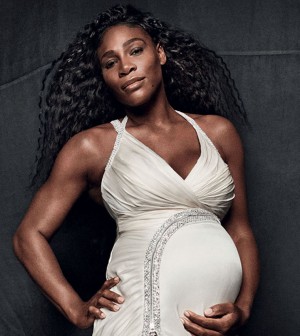 The public's perception of famous tennis star Serena Williams often borders on the classification of "royal family-esk obsession." Her highly publicized life often brings the public into her personal struggles and successes more so than arguably most athletes. Consequently, today, the world has learned new details regarding the birth of her most recent child which, for weeks, dominated headlines of magazines at the checkouts of grocery stores across North America. The latest in the Williams saga reveals that she was actually close to death as she went through a more than rough pregnancy.
The reports say that Williams was stuck in bed for a month an a half following the birth of daughter Alexis. Initially, the pregnancy went without faults but following her C-section, the wound opened up as a result of her coughing and she was forced to return to the operating room for surgery. She was further plagued by swelling of clotted blood in her abdomen region. Williams was lucky she had access to top-shelf doctors and health care professionals as many do not.
Following the incident, Williams has further promoted awareness regarding the issue of African American women who are more likely to die from birth-related causes. Recently, Williams has made her return to the sport following the ordeal at the grand slam singles tournament and ironically enough, her last victory at the same tournament came while she was pregnant last year.