Sens' Hoffman admits it's tough to ignore trade rumours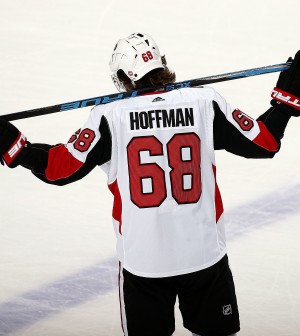 With the way their season has been going, it appears more and more likely that the Ottawa Senators will be sellers at the trade deadline.
One of the names that has made the rounds in the rumour mill in recent weeks is none other than Mike Hoffman, one of their most attractive trade pieces. At just 28-years old, he is likely approaching the prime of his career, and locked up on a reasonable contract that will pay him an annual salary $5,187,500 until his deal expires after the 2019/2020 season.
While he does his best to stay focused, Hoffman revealed that it's impossible to completely ignore all the trade chatter.
"It gets brought up and it gets talked about," said Hoffman about his name being brought up in trade rumours.
"You try to block it out as much as you can, but it's impossible to fully block out. It's part of the business that we're in and things like this happen. It's something that, as a player, you can't control."
Hoffman, who is in his seventh season with the franchise, has posted nine goals, 15 assists and is tied for 3rd on the team in points with 24.
Meanwhile, the Senators are second from the bottom of the league with a 12-17-8 record. So it would be in their best interest to trade off assetts this season to stock up on future draft picks and prospects moving forward.
The NHL trade deadline is less than two months away on March 1.