Senators will wear NHL100 Classic jerseys seven more times in 2017/18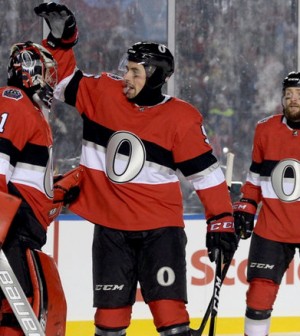 Finally something for Ottawa Senators fans to get excited about.
If you loved what the team wore during their NHL100 Classic game against the Montreal Canadiens earlier this season, then you are going to enjoy this.
The team confirmed Thursday that they will wear the jerseys for seven more home games before the conclusion of the 2017/18 season. The dates they will wear be wearing them for: January 6 vs. Tampa Bay Lightning, January 18 vs. St. Louis Blues, January 20 vs. Toronto Maple Leafs, January 25 vs. Boston Bruins, February 1 vs. Anaheim Ducks, February 8 vs. Nashville Predators and February 17 vs. New York Rangers.
Maybe some of that good luck from the game will rub off on them moving forward.