Senators asking for a lot in Brassard trade talks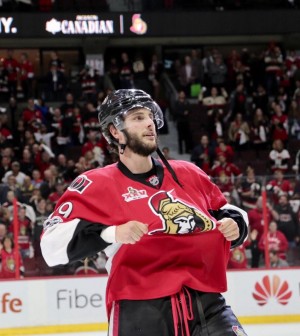 Teams interested in acquiring Derick Brassard are going to have to give up a lot to get him.
According to reports, the Ottawa Senators are asking for at minimum a first-round draft pick, a high-end prospect and an additional third piece for the 30-year old.
Brassard, who is slated to make $3.5 million in 2018/19, has posted 14 goals and 16 assists in 52 games this season.
He was asked about the recent rumours, and didn't seem too concerned about his status on the team.
"I've been traded two times now; it's part of the game," said Brassard.
"Players are leaving every year; it's hard to keep a core together. Whatever is going to happen on the 26th is going to happen, and you can't really control anything.