Roy Halladay Memorial Scheduled for Today
By
Admin
on November 14, 2017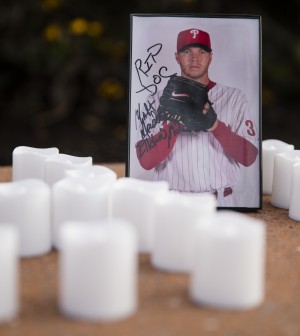 Today in Clearwater Florida, a memorial service for Roy Halladay will be open to the public. Many are expecting Blue Jays players to show up to the service. This afternoon, Sepctrum Field, the home for the Philadelphia Phillies will host the event. His family will be hosting the event and are calling it a celebration of his life.
As many know, Halladay was killed on Tuesday after he crashed his sport plane in the Gulf of Mexico. On behalf of his family, the Blue Jays and the MLB released a statement regarding his passing:
"Our family is heartbroken in confirming that Roy passed away in a plane crash Tuesday afternoon. While many will remember him for his success as a major league pitcher, we remember him as an amazing father, loving husband and loyal friend. Roy had many accomplishments in his professional career, the memories of which we will cherish forever."
Furthermore, a crash report is expected to be released next week in addition to a more lengthy investigation. Halladay, who had only owned the plane for under a month before his death, was very excited about flying the plane. This year he was inducted into the Canadian Baseball Hall of Fame for his esteemed career.