Rondo to be sidelined 3-5 weeks after breaking hand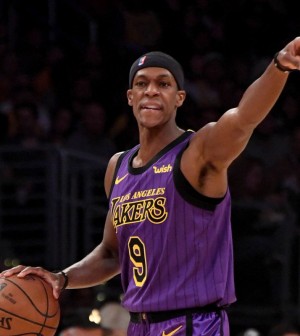 The Los Angeles Lakers will be without their backup point guard for the next little while.
The team announced that veteran Rajon Rondo be will out for approximately 3-5 weeks after fracturing his shooting hand while attempting to steal the ball from Jusuf Nurkic with 8:24 remaining in the fourth quarter of their 126-117 over the Portland Trail Blazers on Wednesday.
"It's tough," said teammate LeBron James about the injury.
"He's one of our captains, one of our leaders. I heard we got great surgeons here in L.A., so get right to it, start his rehab as fast as possible, get going. Next man up. Next man up. I know Rondo hates the fact of what he's going through right now, but we all have to pick him up in his absence."
Rondo will get an MRI to determine the extent of the injury and whether he will need surgery to repair the broken hand.
The 32-year old veteran has averaged 8.5 points, 6.5 assists and 4.5 rebounds in 11 games this season.