Ronda Rousey to be inducted into UFC Hall Of Fame as first female member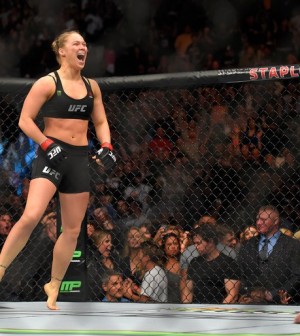 The former Olympic medalist defended the UFC bantamweight title a record six consecutive times. Prior to that, she won two more title bouts in Strikeforce before the UFC even had women in the promotion. Now the first woman to be inducted into the UFC Hall of Fame.
"Ronda is an absolute pioneer who helped me personally, and a lot of other people, look at women in combat sports differently. She accomplished everything she set out to do with UFC and became a global icon and role model in the process. Today, the women's divisions are packed with incredibly talented fighters and they produce some of the best fights you'll ever see. We're proud to announce Ronda as the first woman to be inducted into the UFC Hall of Fame." Said, presadent Dana White.
"This is an immense honour, to not only take part in bringing women to the forefront of this sport but now the UFC Hall of Fame," Rousey said in a statement. "May I be the first of many."
Being inducted into the UFC Hall of Fame will be just another cap in the former fighter's cap, which also includes a Hollywood career and current stint in WWE.
The induction ceremony takes place July 5 at 10 p.m. ET  at The Pearl at the Palms Casino Resort in Las Vegas, and it streams on UFC Fight Pass. It's part of the seventh annual UFC International Fight Week.