Rockets owner wants to bring NHL team to Houston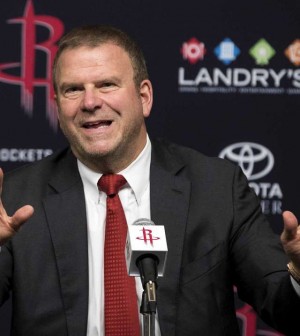 Tilman Fertitta has big aspirations for the city of Houston.
During an introductory news conference on Tuesday, the new Houston Rockets owner also expressed his interest in bringing an NHL franchise to the city.
"I would put an NHL team here tomorrow, but this one has got to work," said Fertitta.
"Would I love to have the other dates in the building, do I want to see Toyota Center filled up 300 nights a year, definitely. So we'll do whatever we can do, but whatever we do is going to make sense. But yes, Will we be aggressive? Yes. That's my nature."
The 60-year old, who purchased the Rockets from Leslie Alexander for a record-breaking $2.2 billion last month, believes an NHL team could easily share the Toyota Center with the NBA club.
"If we have an NHL team we need to put 16,000 people in that stadium every night, 17,000, 18,000 that's what we hold here so if I go out and get an NHL team, I am going to ask the citizens of Houston to make sure they're going to commit to help me do it, because once again none of this is successful without the fans out there and I know that," added Fertitta.