Ricky Ray hasn't made a decision on future after Grey Cup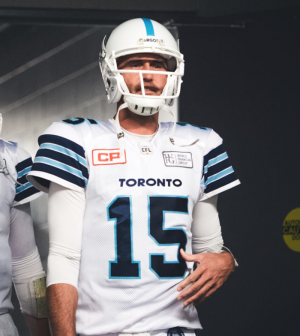 It's the week of the 105th Grey Cup taking place in Ottawa and it's setting up a lot like last years matchup. Powerhouse Calgary Stampeders from the West have made it in on their solid defense and effective offense, an underdog team from the east led by an older QB who is nearing the end of the career and might actually retire with a win, much like Burris did last season.
I got a call last night from a friend in Ottawa and he's all like "Got an extra ticket to the Grey Cup, can you make it?" I'm like hell yeah, if I wait for the TiCats to make one, I might never get to go. So I'll be there Sunday, and very reluctantly cheering for the double blue, even saying that gives me chills.
It has been quite the season for the Argos, what a turnaround. I knew as soon as Popp and Trestman made their way to Toronto the Argos would find their way back to a Grey Cup, but I didn't think it would be this quick. The main part of their success has been stellar defense and then a healthy Ricky Ray, something they hadn't had for the past couple seasons.
One of the storylines that are developing is what will Ray do following the Grey Cup as many are assuming retirement if he wins. Ray is 38 and has been in the league for 15 years, and he's hearing the questions and comparisons to last years Grey Cup winning QB.
"I'm getting so many questions about, 'Is this your last year? Henry did it. What if you do this? What if you do that?' I'm just trying to win a game, I'm just trying to go out there with my team and win a Grey Cup. There's no other reason or motivation or grand thing that I want to do other than just win a game."…"I haven't made a decision," Ray said. "For me, the last few years personally with injuries and some of the stuff I've gone through I don't know if I am playing next year…."I really didn't know what to expect coming into this year. I just wanted to give it everything I could and just re-evaluate at the end of the season."
Ray has attributed his bounce-back year to his new head coach Marc Trestman, who has done a pretty good job with QB's in the past, including Anthony Calvillo.
"He's always addressing everything and there's no elephants in the room. It just clears your mind as a player, there's nothing to worry about because you know coach is thinking about that for you . . . as a player is you know exactly what to expect."
Can the Argos pull off the upset on Sunday? That'd be tough back to back years of losing the Grey Cup for Calgary… did someone else lose 2 Grey Cup's recently… one of them on a flakey block in the back call?…. I'm not sure. Can't remember.