Rick Pitino continues to insist he hasn't done anything wrong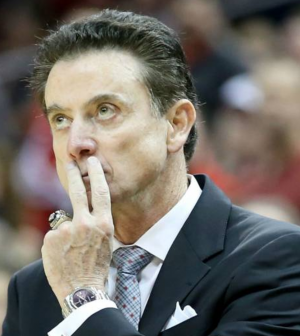 Scandal, scandal…. and scandal. That's pretty much been the life of the Louisville Cardinals basketball program. Yesterday Pitino and the Lousiville athletic director Tom Jurich were put on administrative leave, Pitino unpaid, Jurich paid. The allegations that are really causing this shit storm is that a 5-star recruit, widely believed to be Brian Bowen, was given $100,000 by Louisville.
Pitino previously stated that he didn't know what was going on and he now maintains his innocence in a statement released by his lawyers.
"The information disclosed thus far in the investigation is clearly insufficient to implicate Coach Pitino in any type of misconduct or other activity that would violate the terms of his contract," the coach said in a statement through lawyers. "In sum, Coach Pitino has done nothing wrong and there is no evidence to suggest otherwise. The rush to judgment is regrettable."
The other scandal that Louisville was dealing with is that the administrators set up players and recruits with escorts. Pitino was set to serve a 5 game suspension this upcoming season for his involvement in it / letting it happen under his watch.
There's a couple of scenarios that could happen to the Louisville program, including having their 2013 NCAA National Championship vacated. The program could also face the death penalty, which includes the NCAA banning the program from competing for a season and then usually penalties follow, like not being able to give athletic scholarships for that sport.
This looks like a spicy meatball here folks, stay tuned.