Richard Sherman criticizes Redskins for not signing Colin Kaepernick despite QB injuries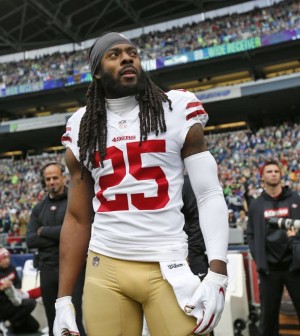 With the sudden surge of quarterback injuries for the Washington Redskins, it felt like the perfect opportunity to bring Colin Kaepernick back to the NFL for the first time since the 2016 season. Instead, the team went a different route and opted to sign enigmatic former first round pick Mark Sanchez to fill the gap.
San Francisco 49ers cornerback Richard Sherman, who is known to one of the more outspoken players in the league, ripped into the Redskins organization for not having the guts to give Kaepernick another chance.
"I think it's unfair because he's a good football player and he's not getting a chance to play football. And worse football players are getting chance after chance after chance after chance after chance after chance." said Sherman.
"Obviously the Washington situation is the most egregious at this moment, but there have been plenty of quarterback situations that have been worse than this, and quarterbacks that have played meaningful football in this league that are not as talented or have the resume that Colin Kaepernick has. The most frustrating thing is there's nothing that anybody can do about it. The NFL is obviously belligerently freezing him out. Everybody sees it, it's pretty obvious, and there's nothing that can be done."
Redskins head coach Jay Gruden has since responded to Sherman's comments, denying that the team passed up on him for political reasons. According to Gruden, it was too late into the season to bring in a new QB and be able to properly teach him their offensive system. Alternatively, it wouldn't be fair to the rest of the team to completely change their schemes around to cater to a new quarterback such as Kaepernick.