Report: Mayweather, McGregor reach multi-million dollar deal for superfight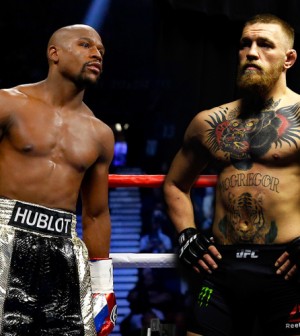 Wait, so it might actually happen?!?!
The thought of this potential superfight seemed like a laughable concept as recently as a month ago, but it appears major steps have been taken to finalize what is expected to be one of the most highly-anticipated fights of all-time.
According to the Irish Sun, undefeated boxer Floyd Mayweather and UFC lightweight champion Conor McGregor have reached a tentative multi-million dollar agreement to fight each other in a boxing ring. Further details about the possible bout have yet to be released. As of now, there is only one thing that stands in the way of this fight. As indicated by the Irish Sun's unidentified source:
"The contract hasn't officially been signed yet because of a third party holdup but all details have been agreed on"

"The fight could even be announced within two weeks."
Mayweather, 39, would have to come out of retirement to make this fight happen. The 39-year old did not lose a single fight throughout his professional career (49-0), and has ended 26 of his fights by knockout. His most recent fight was a unanimous decision victory over American Andre Berto in September 2015.
McGregor, 28, would definitely be at somewhat of a disadvantage in this matchup considering he has yet to box professionally in his life. But if he has proved anything in the UFC octagon, its that he is a very versatile fighter and can quickly adapt to new challenges. The Irishman has competed in three weight classes throughout his career, and recently became the first-ever UFC fighter to hold championship belts in two divisions simultaneously.
Should be interested to see how things unfold in the coming weeks.
More to come.