Reinhart calls negotiating his latest contract "one of the most challenging weeks" in his career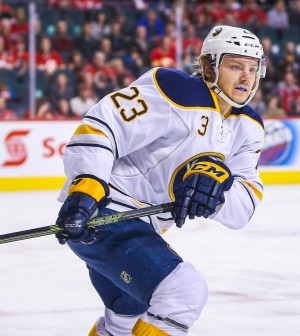 Sam Reinhart is fresh off signing a new contract, and is anxious to prove his worth to both the Buffalo Sabres and their fans heading into the 2018/19 season.
The 22-year old, who was selected 2nd overall in the 2014 NHL Draft, inked a two-year bridge deal worth an annual average of $3.75 million earlier this week. He hopes to be apart of the solution, and lead the team to their first playoff appearance since 2011.
"This is where I want to be," Reinhart told the Sabres official website on Thursday.
"Happy to be back. Really looking to starting on the right note."
Although he's finally back with the team, he admits contract negotiations took a toll on him mentally.
"It was probably one of the most challenging weeks, weeks and a half I've been a part of. I think looking back on it, the best thing I did was come in early and be around the guys because now it just feels like I missed a few days and I'm right back with the team after you usually would with an injury." said Reinhart.
Reinhart posted career highs in goals (25), points (50) and games played (82) last season.
The Sabres open their regular season with a game against the Boston Bruins at the KeyBank Center
on October 4.