Red Wings GM hopeful Zetterberg returns next season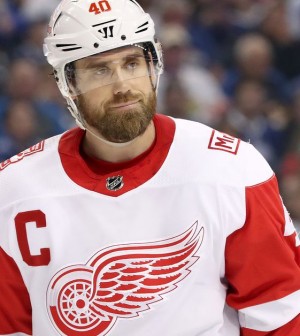 Like everybody else, Detroit Red Wings GM Ken Holland is wondering about the future of team captain Henrik Zetterberg.
The 37-year old Swede played in all 82 games last season, but has struggled with lingering back issues that have kept him from working out and doing on-ice activities to his potential through the summer. With his age being where it is and his health an uncertainty, it's hard to know for sure about his future in hockey.
"I am anxious to know where Henrik Zetterberg is at," said Holland.
"He's a bit of an unknown as far as health. Have talked to his agent – he has had tough summer. He hasn't been able to train anywhere near where at past summers…I'm hoping he'll play."
Zetterberg has spent his entire 15-year career with the franchise, scoring 337 goals and 623 assists in 1082 games.
His contract will be a factor in his decision. He is still signed for three more years at $6.08 million, but due to the front loaded money negiated into his deal, he will make just $1 million annually in the final two seasons of the contract for 2019/2020 or 2020/2021.
Will he walk away from all that money? It's going to be tough to say no to the $3.35 million he is owed this season, but the final two years might not be worth it.