Raptors, Rockets to play two preseason games in Japan on October 8 and 10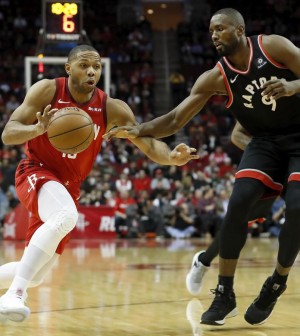 For the first time since 2003, the NBA is returning to Japan.
The league has announced that the Toronto Raptors will face the Houston Rockets in Tokyo, Japan at the Saitama Super Arena next preseason on October 8 and October 10.
Raptors president of basketball operations Masai Ujiri is particularly excited about his franchise getting the opportunity to grow their brand in the country.
"The Raptors are proud to represent the NBA, Canada, and the city of Toronto as we head to Tokyo in October," said Ujiri.
"You have only to look at our organization to know that we truly believe basketball is a global game. We come from all over the world, and we are all connected through the love of our sport. We are looking forward to sharing that with basketball fans in Japan."
Whether their star player Kawhi Leonard will still be on the team at that time is still up in the air. Only time will tell.