Raptors acquire Serge Ibaka from Magic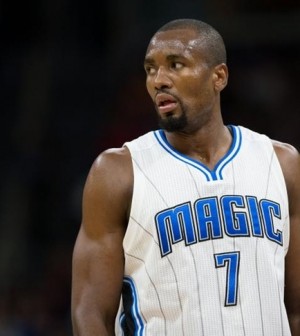 The Toronto Raptors have gone through a rough stretch as of late: losing 10 of their past 14 games and dropping to fifth place in the Eastern Conference.
With their season spiraling downward fast, and their need for a power forward more evident than ever before, the Raptors completed a big trade on Tuesday; acquiring veteran Serge Ibaka in exchange for guard/forward Terrence Ross and a 2017 first-round pick.
Ibaka, 27, has averaged 15.1 points, 6.8 rebounds and 1.6 blocks in 56 games this season. His defensive versatility and presence in the paint will certainly help a Raptors team that has struggled defensively throughout the year. His outside shooting (38.8% from three) and ability to stretch the floor will help provide much-needed spacing for the Raptors on the offensive end.
Ross, who was selected 8th overall by the Raptors in the 2012 NBA Draft, and was in the midst of his fifth season with the team. Although he has been inconsistent throughout most of his career, he will certainly provide an offensive spark for a team that struggles to put the ball in the basket like the Magic. The 26-year old has averaged 10.4 points, 2.6 rebounds and 1 steal in 54 games this season.