Quickly Denied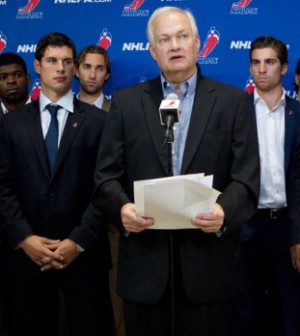 It's been a tumultuous three days since the players and owners got together without their respective leaders.
Everything was rosy after the first day, but things have been bumpy since.
There have been multiple breaks, concessions by both sides, and a request for mediators from the players.
However, shortly after 6:30 pm ET, NHLPA executive director Donald Fehr addressed the media in New York.
Fehr told the gathering that the Players union had tabled a proposal for the NHL, and Fehr believes that the two sides have agreed on pension and transition issues.
The biggest hurdle remaining is regarding contract length, and variation of salary year-by-year.
Included in the NHLPA proposal was maximum contract length of eight years, and the lowest salary in a contract year had to be 25 per cent of the highest earning year.
Less than an hour after the proposal, Fehr returned to the podium only to announce that the proposal was "off the table" and certain moves were unacceptable.
It can only be concluded from the quickness of the response, and the response itself, that a deal between the NHL and the NHLPA is not imminent, and very likely will not be happening anytime in the near future.