Quarterback injuries – NFL Week 11 Picks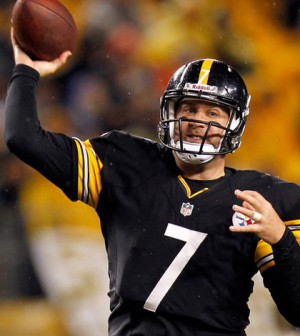 I don't like to brag but when handicapping the toughest league to bet on in professional sports 3 straight winning weeks is something I take pride in. Week 10 saw 4 significant quarterback injuries as Ben Roethlisberger, Alex Smith, Jay Cutler and Mike Vick all were injured and did not finish the game. Of those 4 only Smith has a realistic chance to play this week when the 49ers host the Bears Monday night. Here is hoping for another winning week.
Ravens -3 at Steelers: If your sports book posts lines for the following week early this is a game you should have jumped on immediately after Roethlisberger got hurt. The Steelers were initially a 3.5-4 point favourite in this game and this line has been adjusted 7 points since the announcement that Big Ben suffered a shoulder and serious rib injury and will be out at least a couple weeks.
The Ravens have feasted on Pittsburgh when the Steelers have played without Roethlisberger. Since being drafted in 2004 Big Ben has missed 4 games vs Baltimore due to injuries and suspension and the Ravens have won all 4. Byron Leftwich looked shaky vs Kansas City which shouldn't surprise anyone as he has not started a game in 3 years or won a game in 6 years. While the Ravens may have flaws defensively don't expect Leftwich to be able to exploit them. Credit Pittsburgh for overcoming injuries on the offensive line, at running back and on defence but this injury will be too much to overcome as the Ravens will snap the Steelers 4 game winning streak.
Panthers +2 vs Bucs: Tampa Bay is an amazing story how they have gone from 4-12 to 5-4 the following year and are currently riding a 3 game winning streak. Greg Schiano has done an incredible job with a very young team but now the pressure is on. There has been no expectations on Tampa Bay this year until now. They are starting to get major respect from the lines makers. In week 1 the Bucs were a 3 point home underdog versus these same Panthers. Now 10 weeks later they are laying points on the road. Shows you how these 2 teams have gone in completely different directions.
The truth is Carolina is not as bad as their 2-7 record. They suffered very tough tight losses on the road vs Superbowl contenders Atlanta and Chicago covering both games and nearly winning them outright. They crushed Washington 2 weeks ago and while the score didn't look good versus Denver last week I expect the Panthers to bounce back as a home underdog against a team that is bound to fall back down to earth some time soon.
Bengals -3 vs Chiefs: It seems I am picking on both teams that played Monday night this week. The Chiefs deserve a lot of credit playing tough in an overtime loss at Pittsburgh but now they are on a short week and still have just one win on the season. All year turnovers have killed this team and again in overtime versus Pittsburgh Matt Cassel threw a terrible interception that resulted in the game winning field goal.
After a miserable month the Bengals should have some confidence and swagger back after dismantling the defending champion New York Giants last week. Andy Dalton played his best game of the season and the Bengals are getting healthy on defence. With the AFC being a rather week conference this year Cincinnati realizes they must start beating the week teams if they have any shot of the post-season and that should start this week at Arrowhead Stadium.