Price will not participate in 2019 NHL All-Star Game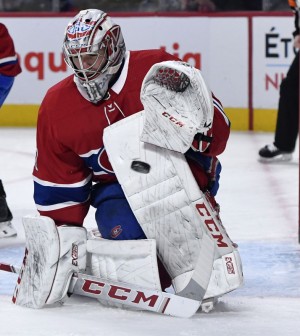 Montreal Canadiens goalie Carey Price has decided that rest and injury recovery is more important than joining his fellow All-Stars, and as a result will not play in the 2019 NHL All-Star Game at SAP Center later this month.
The team confirmed the news on Monday.
"We took the time to discuss the situation with Carey and the medical group earlier today, and we all agreed that the best decision for him would be to rest and recuperate during the upcoming All-Star break," said general manager Marc Bergevin.
"Carey has had a nagging injury for some time, and we want to make sure to have him healthy and rested for the second half of the season."
The 31-year old, who was been dealing with lingering lower body injuries for the majority of the 2018/19 season, has posted a 16-12-4 record, 90.0 save percentage, and a 2.71 goals-against average in 33 games this season.
He returned to action on January 3rd after being sidelined for nearly two weeks. He has played in three games so far in 2019, and wants to maintain his healthiness rather than risk injury at the All-Star Game.
"Well obviously at this point in the season and my career and where we're at right now, it's better for me to take the time off," siad Price.
"And I feel like I've been a very good participant in the event so far and I'm very honored to be named to that again, but right now the smart choice is to take the time to rest."