Predators ink Rinne to two-year contract extension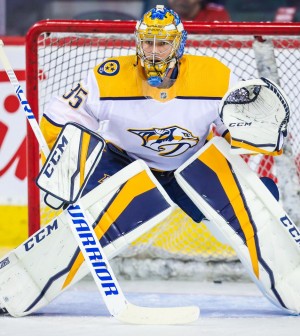 Pekka Rinne is sticking with the Nashville Predators for another couple of years.
The team announced on Saturday that they have signed the veteran goalie to a two-year, $10 million contract extension. As part of the deal, he will make $6 million in 2019/20 and $4 million in 2020/21.
"Pekka Rinne has been the most impactful player our franchise has ever had, both on the ice as one of the NHL's best goaltenders, and off the ice as a leader in the community," said Predators general manager David Poile in a statement.
"Both the organization and Pekka want him to play his entire career with the Predators, and this helps accomplish that objective, while also stabilizing our goaltending for at least the next two seasons beyond 2018-19. We feel the tandem of Pekka and Juuse Saros is among the best in the League."
The 36-year old has spent his entire NHL career with the organization. Over a span of twelve-plus seasons, Rinne has posted a combined 316-169-66 record, 2.36 goals-against average, .919 save percentage and 53 shutouts in 574 games.
He is a three-time NHL All-Star, four-time Vezina Trophy finalist and was a recipient of the Vezina Trophy for the first time in his career after the 2017/18 season.
He recently returned from injury after missing five games with an undisclosed injury.