Pittsburgh Penguins Are One Game Away From Winning The Stanley Cup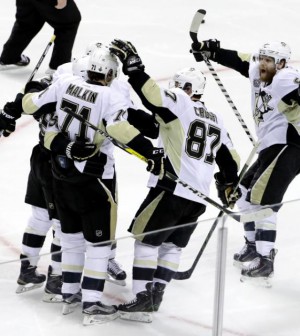 The Pittsburgh Penguins are one win away from hoisting their 4th Stanley Cup in franchise history. The Penguins took on the Sharks again last night in San Jose.  Pittsburgh who was holding a 2-1 series lead last night made it 3-1 with a 3-1 win over the Sharks.
Once again Matt Murray stood tall on his head, making 23 saves allowing only 1 goal. Murray has moved to 5-0 in the postseason after a loss. The defense helped Murray, however, it was Murray who came up on top in the third period which ultimately led them to the victory over the Sharks.
Phil Kessel has 21 points in 22 playoff games, and he assisted both Ian Cole and Evgeni Malkin with their goals last night. Eric Fehr scored the 3rd-period goal to close out the game.
Game 5 is in Pittsburgh Thursday, June 9th at 8:00PM ET