Phillies reportedly making strong push to sign both Harper and Machado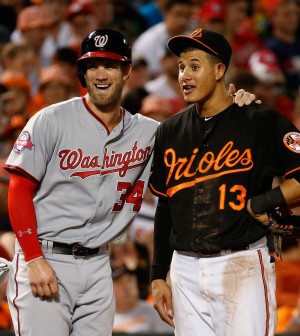 The Philadelphia Phillies are all in this offseason.
Looking to put an end to a seven-year playoff drought in 2019, the franchise are reportedly in heavy pursuit of both Bryce Harper and Manny Machado.
Between the two star free agents, who both made their MLB debuts in 2012, they have combined to make 10 MLB All-Star appearances out of a possible 14 opportunities.
Harper, 26, has posted a .279 batting average, .900 OPS, 184 homers, and 521 RBI over a span of seven seasons with the Washington Nationals. Aside from winning the NL Rookie of the Year in 2012, he is also a recipient of the NL MVP Award (2015), Silver Slugger Award (2015), NL Hank Aaron Award (2015), NL home run leader (2015), and most recently won the Home Run Derby at the 2018 MLB All-Star festivities.
Machado, 26, is no slouch himself. Over seven seasons split between the Baltimore Orioles and a short stint with the Los Angeles Dodgers, he has hit a combined .282 with a .822 OPS, 175 homers and 513 RBI in 926 games. He does not have the same offensive accolades as Harper, but makes up for it with his play on the field. Machado has won two Gold Glove Awards (2013, 2015), and a Platinum Glove Award (2013) to go along with his four All-Star appearances.
The Phillies finished last season with an 80-82 record, which was their best single season win total since recording 81 wins in 2012.