Pettersson still day-to-day with right knee injury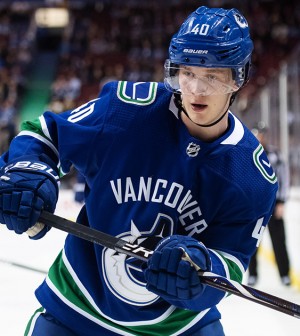 The Vancouver Canucks may be getting a big piece of their team back shortly.
The team announced that rookie forward Elias Pettersson is still listed as day-to-day with a right knee injury, but are not ruling out a return to action for their game tonight against the Edmonton Oilers.
"I'm not ruling anything out right now." said Canucks head coach Travis Green about his possible return to the lineup.
"He wants to play, we want him to play…But we're not going to rush him back and have him play where he's at risk because he's not moving around well enough. We're going to do right by him."
Pettersson sustained the injury early in the second period of the team's 2-0 loss the Montreal Canadiens on January 3rd when he awkwardly fell to the ice while tangled up with Jesperi Kotkaniemi. The 20-year old skated off the ice without assistance and went straight to the locker room. He did not return for the remainder of the game.
The 20-year old has been sidelined for the past three games. The Canucks have posted a 1-2-0 record and have scored just eight goals during that span.
Pettersson has had an incredible rookie campaign to this point, compiling 22 goals, 20 assists and a plus-13 rating in 38 games this season.