Penguins Take Game 1 Against The Sharks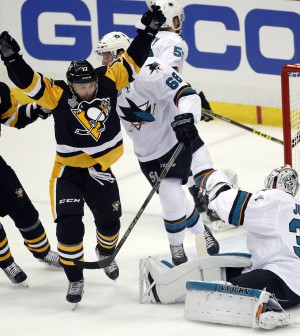 The Stanley Cup finals began last night when the Pittsburgh Penguins and the San Jose Sharks went head-to-head. The is the first time the San Jose Sharks have been in the Stanley Cup finals. The Pittsburgh Penguins have been in the Stanley Cup finals for the 3rd time in 8 years. If they were to win, it would be there 2nd Stanley Cup in 7 years.
The Penguins and the Sharks have had a great journey to the finals, and they both have been on fire. Both of these teams have great leadership, great goal scorers, and great goaltenders. This was determined to be a hard fought, interesting, and exciting series.
The Pittsburgh Penguins won game 1 with a goal that came with 02:33 left in regulation. The Penguins got a quick goal just 03:02 into the game which gave them most of the momentum. Bryan Rust has been phenomenal for the Pens and gave them a 1-0 lead off of a rebound. Conor Sheary made it 2-0 with a perfectly placed wrist-shot. The Sharks needed some motivation to pick it up and start a comeback. The Sharks came out flying in the second period and got a quick goal to cut the lead to 2-1. The Sharks tied it up just before the 2nd period ended with a goal from veteran Patrick Marleau. Nick Bonino scored the game-winning-goal in the third period with 02:33 left to play. The Penguins won game 1 3-2.
Game 2 will be played on Wednesday in Pittsburgh.