Patriots deny rumours of rift between Kraft, Bellichick and Brady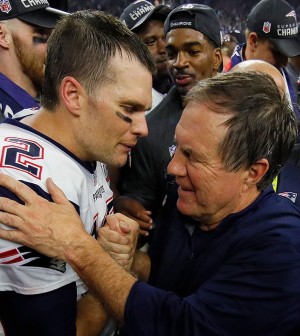 Everything you heard about the New England Patriots this morning was FAKE NEWS.
The Patriots released a statement on Friday denying the rumours of an ongoing feud between owner Robert Kraft, head coach Bill Belichick and quarterback Tom Brady.
"For the past 18 years, the three of us have enjoyed a very good and productive relationship. In recent days, there have been multiple media reports that have speculated theories that are unsubstantiated, highly exaggerated or flat out inaccurate. The three of us share a common goal. We look forward to the enormous challenge of competing in the postseason and the opportunity to work together in the future, just as we have for the past 18 years. It is unfortunate to that there is even a need to respond to these fallacies. As our actions have shown, we stand united." said the Patriots in a statement.
Some of the allegations include Brady's displeasure with the team for revoking some of his personal trainer and business partner Alex Guerrero's privileges with the team, and Belichick's anger about the team's decision to trade back-up QB Jimmy Garoppolo.
They are in the midst of a bye-week and will face the lowest remaining AFC seed that makes it out of the Wild Card round next weekend.