Padres reportedly still interested in Bryce Harper despite Manny Machado signing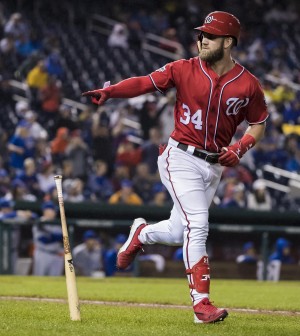 At this point, many assume the Philadelphia Phillies are the clear cut favourites to sign free agent outfielder Bryce Harper. But not so fast!
According to reports, the San Diego Padres are not done making improvements to their roster despite inking Manny Machado to a massive 10-year, $300 million contract earlier this week. They remain in on the Harper sweepstakes, although many still feel they are a long shot to retain his services.
While the Nationals are still in the running, the Phillies are rumoured to be the most aggressive and so far willing to offer the most money.
The hold up is Bryce Harper's hesitancy to stay in Philadelphia long-term. MLB Network reporter Jon Heyman had this to say about it during a segment with WFAN on Friday:
"I've heard from a number of people that don't talk to Scott Boras that (Bryce Harper) is not that enamoured with Philly… he's been there enough to have an impression… Philly is an acquired taste… Philly would not be near his top choice."
The 26-year old has posted a .279 batting average, .900 OPS, 184 homers, and 521 RBI over a span of seven seasons with the Washington Nationals. Aside from winning the NL Rookie of the Year in 2012, he is also a recipient of the NL MVP Award (2015), Silver Slugger Award (2015), NL Hank Aaron Award (2015), NL home run leader (2015), and most recently won the Home Run Derby at the 2018 MLB All-Star festivities.