Packers to hire Titans OC Matt LaFleur as head coach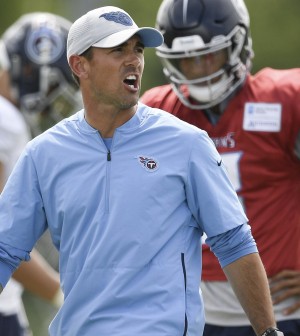 The Green Bay Packers are on the verge of naming their replacement for Mike McCarthy.
According to reports, the team has chosen to hire Tennessee Titans offensive coordinator Matt LaFleur as the 16th head coach in franchise history. It's only a matter of time before the decision is made official.
The 39-year old has never been a head coach, but has a plethera of coaching experience in the NFL. Since 2008, he has enjoyed stints as Offensive quality control coach of the Houston Texans (2008-2009), quarterbacks coach of the Washington Redskins (2010-2013) and Atlanta Falcons (2015-2016), and most recently offensive coordinator of the Los Angeles Rams (2017) and Titans (2018).
He will have his work cut out for him with the Packers. The team is fresh off a disappointing season where they finished with a 6-9-1 record (their worst since the 2008 season), and missed the playoffs for the second consecutive year. The last time they failed to qualify for the post-season in two consecutive years was back in 2005 and 2006. After that, they rallied eight straight trips to the postseason leading up to their demise in 2017.