Novak Djokovic wins 3rd consecutive Australian Open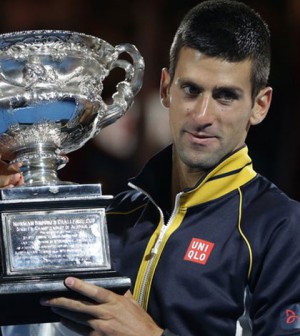 Novak Djokovic became the first man in the Open era to win three consecutive Australian titles when he beat Andy Murray 6-7 (2), 7-6 (3), 6-3, 6-2 this morning
I watched a lot of this match, hard fought but not a classic like last year's six hour, 5 set marathon between the world's #1 and Rafael Nadal
"It's definitely my favourite Grand Slam," he said. "It's an incredible feeling winning this trophy once more. I love this court."
Djokovic has won four of his six major titles at Melbourne Park, where he is now unbeaten in 21 matches. Nine other men had won back-to-back titles in Australia over 45 years, but none were able to claim three in a row.
Only two other men, American Jack Crawford (1931-33) and Australian Roy Emerson (1963-67), have won three or more consecutive Australian championships.
The first 2 sets were pretty even, both tie breaks,there were no service breaks until the eighth game of the third set, when Djokovic finally broke through and then held at love to lead by two sets to one.
Djokovic earned two more service breaks in the fourth set, including one to take a 4-1 lead when U.S. Open champion Murray double-faulted on break point.
Murray's win over Djokovic in the U.S. Open final last year ended a 76-year drought for British men at the majors, but he still is yet to make a breakthrough in Australia after losing a third final here in the last four years.
The win consolidated Djokovic's position as the No. 1-ranked player in the world, while Federer and Murray will be second and third when the ATP rankings are released Monday.
BryanA
(notes from AP)