Norman Powell agrees to four-year extension with Raptors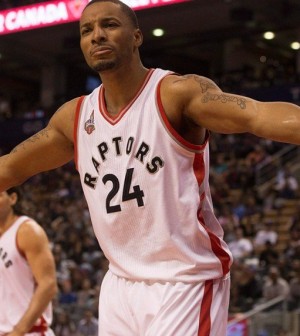 The Toronto Raptors locked up one of their rising young stars to a long-term deal on Thursday.
According to reports, the team has signed guard/forward Norman Powell to a four-year, $42 million contract extension.
The 24-year old, who was selected 46th overall in the 2015 NBA Draft, has averaged 7.3 points, 2.2 rebounds and 1.1 assists over two seasons with the franchise.
Powell saw his minutes on the floor substantially increase after Terrence Ross was dealt to the Orlando Magic at last season's trade deadline.
With the departures of DeMarre Carroll, PJ Tucker and Patrick Patterson, he will have plenty of opportunity to solidify himself as an important piece coming off the bench or win himself a role in the starting rotation if CJ Miles struggles or an injury to either DeMar DeRozan occurs sometime during the season.