No Feastin' In The Eastern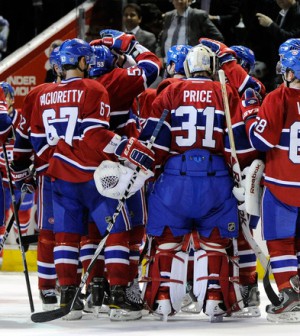 Yesterday I wrote a report card on the NHL's Western Conference; today I'll look at the Eastern races.
There are several surprises, some good, some not so much. Who thought the Montreal Canadiens would look this good? Anybody who put up their hand is lying.
They are fast and they compete. It doesn't hurt that Carey Price is their goalie.
The Bruins are 2 points back but have three games in hand. I've seen them several times and I don't think they've even hit their stride yet. The one thing that may concern them is, while they have games in hand, they've also had more rest, so their schedule will be more condensed than others.
The Carolina Hurricanes lead the Southeast Conference but they just lost goalie Cam Ward for six-to-eight weeks and that's going to be a big problem for them.
Ottawa continues to amaze, somehow holding on despite losing their best 3 players.
Likewise, the Leafs somehow are hanging in with an AHL defence and little offense from most of their top six forwards (or at least not what was expected).
New Jersey, last year's Stanley Cup finalists are pretty much as advertised. Tough to play against and very good defensively.
The biggest disappointment has to be Washington. Alex Ovechkin has regressed to the point you wonder what's wrong with him. New coach Adam Oates hasn't been able to light his fire, or anyone else's for that matter, and you have to think General Manager George McPhee is feeling some heat as well.
The New York Rangers were a pre-season Stanley Cup favourite but they'll have to get a lot better just to make the playoffs. Brad Richards, Rick Nash and Marian Gaborik are all highly paid disappointments so far.
Richards even looks like he's lost a step or two. The Rangers better hope he's hurt, because if he has slowed down, the next 7 years will be particularly painful because he comes with an annual cap hit of $6.667M, and buying that out won't be fun. I'm not saying that's what will happen but Richards turns 33 in May so he's not getting any younger.
The Flyers hold down 8th place right now but that's a bit of an illusion. The Rangers are a point back with three games in hand, and Winnipeg only two back with two games in hand.
The Flyers really miss Chris Pronger and Matt Carle on their blueline, and they've also missed forwards James van Rymsdyk (traded to Toronto), Scott Hartnell and Matt Read (both injured). Claude Giroux has struggled at times, but their goaltending has been pretty solid with Ilya Bryzgalov.
The Sabres are turning things around under new coach Ron Rolston but they'll have difficulty overcoming a terrible start.
Florida and Tampa have struggled all season and the Islanders are, well, the Islanders.