Nick Kyrgios Fined After Quitting Match
By
Admin
on October 11, 2017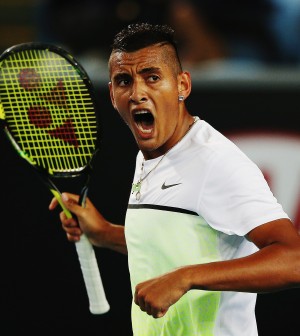 Tennis competitions typically establish an environment of civil competition, especially in comparison to other sports. Dress codes, spectator rules and other factors are put into place in order to cut out some of the potential drama, hostility, and other misguided side-effects other sports can sometimes be burdened by. But yesterday, the Shanghai Masters saw Australian player Nick Kyrgios decide to leave the court after loosing the first set. Kyrigos was booed off the court as he walked away. His behaviour comes after smashing balls out of the court and receiving a warning from officials for it earlier in that same game.
Consequently, the player was fined $10,000. He also was not allowed to pick up his prize money due to his failure to prove he was injured, further setting him back another $21,000. But this wouldn't be the first time the player faced criticism and fines for poor behaviour on the courts. Last year at the same tournament, he was fined and banned in a similar instance.
Apologizing online, Kyrgios ensured fans that his attitude stemmed from a bad stomach bug, and a sore shoulder, causing him to struggle and play the game, causing a bad first set. He went on to say that he hadn't eaten much in the 24 hours leading up to the match and hoped that he'd be able to return for the doubles match. Not coincidentally, Kyrgios also reacted poorly during a loss a few days ago at the China Open and voicing his frustrations due to a call made during the first set.