NFL Week 9 Preview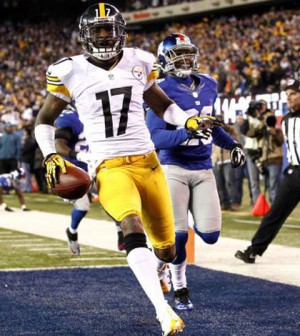 Every week I analyze the point spreads to look for underdogs that I feel can win outright. I love the value of taking points with teams that I feel will be in the game in the final minutes but I am having a hard time finding those juicy dogs this week. My top 3 plays for the week are all favourites as I just don't see any value with many underdogs in week 9.
New York Giants -3.5 vs Pittsburgh: Since losing week 1 to the Dallas Cowboys the New York Giants have been one of the most consistent teams in the NFL. The Giants are one of the few teams in football that could blow a 23 point lead on the road and still find a way to pull a game out in the 4th quarter the way they did in Dallas last week. The Giants are getting healthier and looking like a very complete team.
The Steelers have won back to back games against the Bengals and Redskins and to their credit they are getting it done with a very banged up unit. Still no Troy Polamalu and with key injuries at the running back position the Steelers will not have enough to win in a hostile environment and it seems like a very short price to lay with the defending champion G-Men!
Baltimore -3 at Cleveland: I give the Browns a lot of credit for being competitive week after week and they have been very good ATS this season including a cover against the Ravens in Baltimore on a Thursday night game as a double digit underdog. This spread is much more reasonable and expect the Ravens to be a very angry football teams. They were embarrassed before their bye week at Houston playing its first game after losing both Webb and Lewis on defence. Baltimore has had time to get Terrell Suggs into proper game shape and he will be a big boost to a defence that suffered such devastating injuries in the victory over Dallas. Look for Joe Flacco Ray Rice and the Ravens offence to get back on track against their arch rivals.
Chicago -3.5 at Tennessee: I see this as a very low spread for a much better Chicago team in this spot. The Bears did not play well at home last week vs Carolina and probably should have lost that game if Steve Smith didn't fall down on a route allowing the Bears defence to get a pick 6 off Cam Newton in the 4th quarter. The Bears will be challenged to be much better this week and with a smothering defence I expect it to be a long afternoon for back up quarterback Matt Hasselbeck who will once again be under centre. The Titans let one slip away at home against a Colts team that hadn't won on the road in over a year and just don't have the weapons on defence to slow down Jay Cutler and Brandon Marshall.
Just for the record my top underdog is the Philadelphia Eagles who are getting 3.5 points in New Orleans on Monday night.