NFL Week 13 Preview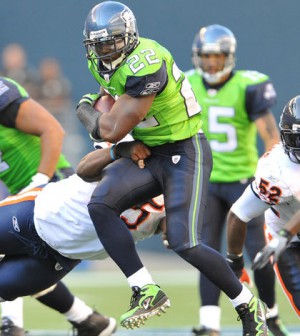 NFL Betting: Tight Wild Card Races Highlight Week 13
Usually in December NFL division races are tightly contested but this year is very different. It appears like only the NFC North will come down to the wire with one game separating the Chicago Bears and Green Bay Packers. The other division races are pretty one sided. The drama down the stretch will be what teams capture the number five and six wild card seeds in each respective conference.
Seattle Seahawks @ Chicago Bears
Odds: Bears -3.5
The Seattle Seahawks are one of the teams that will be battling for a wild-card spot in the NFC. While it may sound simple handicapping the Seahawks is pretty easy. Bet on them at home, bet against them on the road. Seattle is a perfect 5-0 at Qwest Field but have won just once on the road. Russell Wilson has a much better quarterback rating at home and overall Seattle ranks 31st in the league in passing yards.
The Chicago Bears hammered the Minnesota Vikings last week 28-10 but did suffer a number of key injuries in the victory. Matt Forte, Devin Hester and Charles Tillman all left the game but Forte and Tillman are both expected to be able to play this week. Chicago has a one game lead on Green Bay in the NFC North and defensively should be able to do plenty to confuse Seattle's rookie pivot. With Seattle playing at 10 a.m pacific time I expect its road woes to continue.
Pick: Bears -3.5
Cincinnati Bengals @ San Diego Chargers
Odds: Bengals -1.5
The San Diego Chargers loss to the Baltimore Ravens last week will destroy any playoff aspirations the Chargers once had. San Diego has had some tough losses this year blowing a double digit second half lead to New Orleans and then coughing up a 24 point lead the following week to the Denver Broncos. Last week's defeat was even worse as the Chargers led by 10 in the final minutes and then gave up a touchdown followed by a 4th and 29 Ravens conversion on a dump off to Ray Rice followed by six missed tackles and a bad spot. The Chargers went on to lose in overtime and at 4-7 it is hard to imagine them getting up for this game one week later.
The Cincinnati Bengals are playing its best football of the season. After a month long slump Cincinnati has reeled off three straight wins over the New York Giants, Kansas City Chiefs and Oakland Raiders. In those wins the Bengals are giving up on average less than 10 points per game and are starting to become a potent offense led by Andy Dalton and A.J Green. Look for the Bengals to take advantage of a team that can't see this season end soon enough.
Pick: Bengals -1.5
Houston Texans @ Tennessee Titans
Odds: Titans + 6
At 10-1 the Houston Texans have things in cruise control in the AFC South. While the Texans have won five straight since losing to Green Bay the last two week have not been pretty for this defense. They gave up 37 points versus Jacksonville and followed that up by giving up 31 points at Detroit. While the offense bailed them out in both those games they did not cover and gave up a ton of big plays to Chad Henne and Matt Stafford.
The Tennessee Titans came up short last week as a road favorite at Jacksonville shooting themselves in the foot in the red zone. Earlier this year Tennessee lost at Houston 38-14 but that score was very misleading as Jake Locker got hurt early and they gave up two interceptions for touchdowns. With Locker healthy I expect big plays to be made against a struggling Texans secondary and Chris Johnson to be able to move the chains and keep the Texans offense off the field. Look for this game to be decided in the final minutes.
Pick: Titans + 6
Good luck and please note I will be out of the country from December 3rd to December 16 so the articles will resume for week 16.