NFL Thursday night football Saints vs Falcons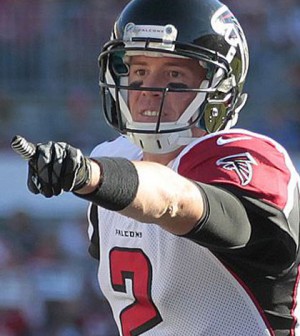 The Atlanta Falcons look to improve to 6-0 at home this season as they host the New Orleans Saints. The Saints are the only team to beat the Falcons this year when they upset them 31-27 in New Orleans week 10. Despite the fact New Orleans trails Atlanta by five games in the division they come into this game knowing they have dominated their rivals winning seven of the last nine match ups.
New Orleans Saints @ Atlanta Falcons
NFL Betting Odds: Falcons -3
 How The Saints Can Win
Do what they have done against Atlanta since Matt Ryan and Mike Smith took over. Last year Drew Brees broke Dan Marino's NFL single season passing record in a blow out win versus the Falcons on prime time television. The Saints swept the season series last year on route to the division crown and since signing in New Orleans, Drew Brees has shredded the Falcons secondary twice a year. In the earlier meeting this season the Falcons could not slow down tight end Jimmy Graham who had 146 receiving yards and two touchdowns.   The Saints certainly have the mental edge as well based on their success head to head.
 How The Falcons Can Win
The Falcons are 10-1 this season and would love to avenge their only loss of the season to these Saints. There is certainly bad blood between these two teams as Atlanta feels the Saints ran up the score against them last year when Brees set the passing record. In the earlier meeting this year there was a lot of smack talk during warm up that was initiated by the Falcons who are tired of losing to the Saints.
Matt Ryan is having an MVP type season and against the Saints in week 10 threw for a career-high 411 yards against a Saints secondary that has struggled all year. Atlanta had two drives late in that game to take the lead but were plagued by drops from Tony Gonzalez and Roddy White. The Falcons have many offensive weapons and if they can get a couple stops on defense they have a great chance to stay perfect at home.
 Outlook And Pick
The Falcons are favored by a field goal at home, where they are perfect this season. Atlanta has had a number of close calls at home this year versus non playoff teams like the Arizona Cardinals, Carolina Panthers and Oakland Raiders and were unable to cover against any of them.
The Saints will be traveling on a short week with a bitter taste in their mouths after losing at home 31-21 to San Francisco. Drew Brees threw two interceptions returned for touchdowns versus the 49ers defense in that loss.
 Even though the Saints have owned the Falcons in recent years look for Atlanta to silence some of their critics who are not taking them seriously as a legitimate Super Bowl favorite despite its 10-1 record. There is some serious value with Falcons in this spot considering you only have to lay a field goal. That tells you these teams are equal since Atlanta is getting the three points for home field advantage. The truth is the Falcons are a far superior team this season and will want to show that to the world on a prime time Thursday night game against a team that has embarrassed them the last five years. Look for the Falcons to make a statement against the Saints.
 Pick: Falcons -3
Check out my blog later in the week for more on week 13 in the NFL