NFL News & Notes – Week 14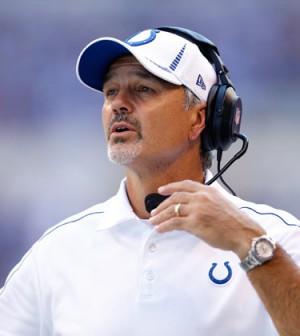 It was another thrilling week in the NFL with some interesting news and notes that happened so far this week. Thus we bring you the Week 14 edition before the Monday night game kicks off.
Encouraging Sign:
Indianapolis Colts head coach Chuck Pagano may be ready to retake the head coaching duties for the team he was forced to unexpectantly leave in September.  Pagano, who was diagnosed with leukemia in the season's first month, had to leave the team after Week 3 to seek treatment.  Interim head coach Bruce Arians has done a spectacular job in his absence, leading the team to a (9-4) record, and appear to be a playoff team only a year removed from a last place finish.  According to Arians via Phil Richards of the Indy Star on Twitter "it looks great (for Pagano to return Dec. 30). He was in this morning and he looked good, really good."  December 30 would the final week of the regular season before playoffs.
Interesting Timing:
It's not everyday that a team leading it's division and has all but clinched a playoff berth that someone from the coaching staff gets fired.  But that's exactly what happened in Baltimore on Monday.  Offensive coordinator Cam Cameron was let go and will be replaced by former Indianapolis Colts head coach Jim Caldwell. Caldwell was currently serving as the Ravens quarterback coach.
Cameron had been the team's offensive coordinator since 2008, but has drawn the ire of Ravens fans for not giving their best player, Ray Rice, more opportunities with the ball.  Baltimore has never missed the playoffs with Cameron in control of the offense, and quarterback Joe Flacco is on pace to set career highs in passing yards, and completions.
MVP Watch:
Adrian Peterson is making a very strong case for the league MVP trophy.  The Minnesota Vikings running back returned earlier than expected from a torn ACL and MCL injury in time for the first game of the season.  After rushing for 84 yards and two touchdowns against the Jacksonville Jaguars in the season opener, the 6-year veteran hasn't looked back.  Peterson leads the league in rushing with 1600 yards, and has ran for over 100 yards in each of the team's last seven games, including 210 against Green Bay two weeks ago.
However, Peyton Manning, Tom Brady, Calvin Johnson, and Aaron Rodgers are among the other notable candidates for the elusive award.
Injury Report:
Washington Redskins quarterback Robert Griffin III may have just barely avoided a devastating injury.  RG3 was scrambling on Sunday versus the Baltimore Ravens when he was tackled and his leg came up and appeared to hyper-extend.  The injury was enough to remove the freshman from the game.  This morning Redskins head coach Mike Shanahan said that last year's Heisman winner had a Grade 1 LCL sprain, but there was no structural damage.   The veteran coach however would not rule him out for their game Sunday versus the Cleveland Browns.
Buffalo Bills running back Fred Jackson wasn't as lucky.  The 31-year-old will miss the remainder of the season with a sprained ligament in his right knee.  However, he will not require surgery to repair the Grade 2 MCL sprain.
Dallas Cowboys wide receiver Dez Bryant may be done for the season.  Bryant injured his finger in the fourth quarter in the Cowboys victory over Cincinnati on Sunday.  The third-year star eclipsed 1000 receiving yards, and had nine touchdowns on the season.  Bryant will see a hand specialist to determine the extent of the injury and whether he will require season-ending surgery.