MUST SEE: Marcus Stroman goes opposite field for first MLB homer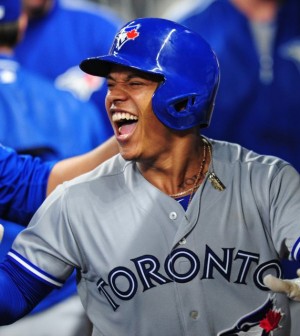 What a night it was for Blue Jays pitcher Marcus Stroman.
Not only did he pitch 5 2/3 shutout innings and strike out six in the team's 9-0 win over the Atlanta Braves, but also become just the second pitcher in franchise history to hit a home run.
When he got up to bat in the top of the 4th, he quickly put himself in an 0-2 hole and appeared destined for a strikeout. However, Braves pitcher Julio Tehran threw him a fastball on the outside part of the plate right in Stroman's wheelhouse. The energetic Blue Jays pitcher took advantage of the pitch location and took it opposite field over the right field wall for his first career home run.
"I've never hit an opposite-field homer, even in batting practice, in my life," Stroman said after the game.
Stroman also recorded a much-needed win on the mound to put an end to the team's three-game losing streak and allowing them to leave Atlanta on a high note after a series full of drama and disappointment. He improved to 4-2 on the season and lowered his ERA to 3.00 in nine starts.
"Stroman has a way of doing something if we need something desperately, he comes through." said Blue Jays manager John Gibbons.
In case you missed it, check out Stroman's big time home run in the video below: