MLB announces major rule changes for 2019
By
Admin
on March 15, 2019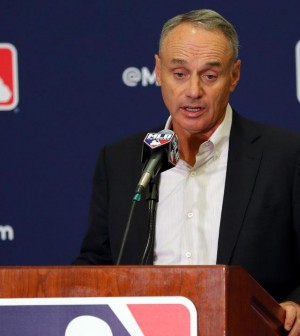 Like it or not, the MLB is undergoing a major facelift.
The league officially approved some significant rule changes on Thursday that will become effective during the 2019 season.
In case you missed it, here is what to expect.
Inning Breaks: Subject to discussions with broadcast partners, inning breaks will be reduced from 2:05 to 2:00 in local games, and from 2:25 to 2:00 in national games.  (The Office of the Commissioner retains the right to reduce the inning breaks to 1:55 in local and national games for the 2020 season.)

Mound Visits: The maximum number of mound visits per team will be reduced from six to five.

Trade Deadline: The trade deadline will remain July 31st; however, trade waivers will be eliminated.  Players may be placed and claimed on outright waivers after July 31st, but players may not be traded after that date.

Joint Committee: MLB and the MLBPA will form a joint committee to study other potential changes.

All-Star Game:

All-Star Game fan voting will be conducted in two rounds.  During the "Primary Round," each Club will nominate one player per eligible position (three outfielders), who will be voted on by fans.  In late June or early July, an "Election Day" will be held in which the top three vote-getters at each position in each League during the Primary Round (including the top nine outfielders) will be voted on by fans during a prescribed time period to determine the All-Star Game starters.  Further details on the new fan voting format will be announced in April.
All-Star bonus payments will be given to the top three vote-getters at each position in each League during the Primary Round (top six for outfielders).  Additionally, the prize money awarded to players on the winning All-Star team will be increased beginning with the 2019 All-Star Game.
Both Clubs will start the 10th inning of the All-Star Game, and each subsequent inning, with a runner on second base (re-entry substitutions allowed for runners).

Home Run Derby: Total player prize money for the Home Run Derby will be increased to $2.5 million.  The winner of the Home Run Derby will receive $1 million.