Minnesota mismanaged cap, can only dress 11 forwards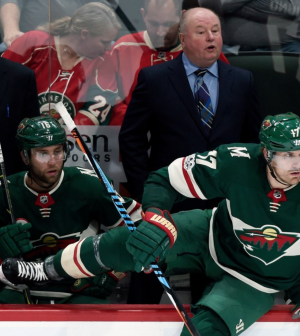 This is why I never play those "Be-A-GM" mode in any of the NHL video games, I don't understand the cap and I don't pretend to.
But you know who should? The GM of an NHL team.
The issue that the Minnesota Wild are facing is that they have 2 injured forwards in Parise & Granlund that are still on their cap. They only have $200,000 worth of cap space and the only waiver exempt player they have is defenseman Mike Reilly but Bruce Boudreau says he isn't willing to send him down to make space.
So for their game against Carolina on Saturday night, the Wild dressed 11 forwards and 7 defensemen, which is not an ideal lineup. They ended up losing in the shootout and for tonight, head coach Boudreau said he might try a different strategy with the forwards.
"Mostly three lines with the other two guys doing something specific," Boudreau said. The Pioneer Press reports Matt Cullen and Daniel Winnik will serve as the two specialists.
"Specialists" Let me tell you right now, Cullen and Winnik are hoping their team takes a lot of penalties, cause they'll pretty much be deployed on the PK, Cullen might get some time on the power play.
Boudreau wants Parise back in the lineup as bad as Parise wants to get back in the lineup.
"That's the plan," Boudreau said. "Who knows? Anything can change. He looked pretty good out there. I know he's champing at the bit to play. It's the protocol and whatever the doctors say and the trainer says is what's going to happen."