Mike Smith becomes 18th goalie in NHL history to record shutout and assist in a playoff game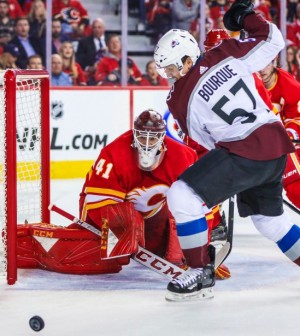 Calgary Flames goalie Mike Smith put any potential goalie controversy to bed with an incredible performance in game 1 of their first round playoff series against the Colorado Avalanche.
During the team's 4-0 win on Thursday, Smith stopped all 26 shots he faced for his 4th career shutout in the postseason. He also recorded his first win in the playoffs since May 20, 2012 and improved his postseason save percentage to a whopping .947.
He also put himself in rare company when he recorded an assist on Matthew Tkachuk's third period goal to make it 4-0. By doing that, Smith became just the 18th goalie in NHL history to record both a shutout and a point during a single NHL playoff game.
According to Sportsnet's Elliotte Friedman, the last goalie to do that was Nashville Predators goalie Pekka Rinne vs the Chicago Blackhawks on April 16, 2017. New Jersey Devils legend Martin Brodeur accomplished this feat on three different occasions during his illustrious career.
The Flames will aim to take a commanding 2-0 series lead when they host the Avalanche for Game 2 on Saturday night (10:30pm/ET).