Mike D'Antoni – New Heir to Laker Throne?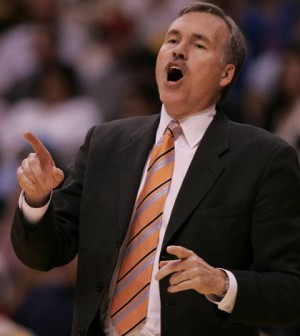 Now Mike Brown may have lost his job in November but I guarantee he was on probation the moment the Lakers got swept in last year's play-offs. The struggles continued going 0-fer in the pre-season and we all know what happened at the end of last week. Also, realize that any team making a significant move by removing their coach/GM phones around to potential replacements to check on availability and interest? The million, maybe million(s) dollar question is the heir apparent in this case? How much do you love sports, love the uncertainty on and off the field, diamond, courts, ice…
I wrote like most on the week-end that Phil Jackson would be hired as the next Lakers bench boss. Little did I know the actual demands that the Zen Master would seek in a new deal with LA management. Apparently, Phil basically wanted the world or this job soley on "his terms" and has probably earned most of it. Just tough to find any dance partner to agree to large salary, imput in personnel decisions, limited coaching on the road and a year to year arrangement. Definitely sounds like a recipe for disaster even for arguably the greatest NBA coach ever (I still love John Wooden but too young to remember the Wizard of Westwood era). A coach has to commit – Phil needs to be around home and away – needs to put his imprint all over the team. It's not like he can wave a magic wand and the team starts responding right away? It's too bad for the Lakers because we'll never know what he could have done with this group.
Enter Mike D'Antoni…apparently he's the other popular choice especially with Steve Nash and Kobe Bryant. He's a players coach and his uptempo system may suit the current roster better than the Princeton did. There's a level of comfort with Steve Nash as he was the QB for 5 years of D'Antoni's time with the Suns.  Lakers fan still has to be patient as with any change there's a learning curve but it may not be as vertical as Brown's Princeton system was and the run and gun style may be a better fit? All I know Laker fan is expecting more from D'Antoni than a Western Conference Final – and let's be honest with an aging roster the window for Kobe and Steve Nash is closing season by season.