Melo to replace Love at NBA All-Star Game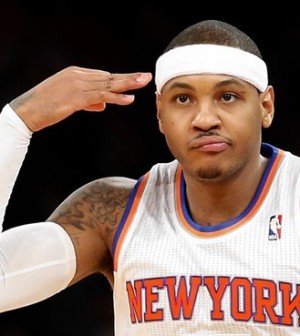 New York Knicks' star Carmelo Anthony will serve as an injury replacement for Cavaliers' guard Kevin Love at the 2017 NBA All-Star Game.
Love was selected to the All-Star reserves but went down to a knee injury that will likely keep him out for around six weeks.
The pair have been linked to a swap for the better part of the season but the Cavaliers are unwilling to take on the swap with many reports citing character issues surrounding Anthony.
Carmelo will be headed now to his 10th straight All-Star appearance after posting 23.2 points, 6.1 rebounds, and 2.9 assists per game for the lowly Knicks.