McGregor shows up to Vegas, tries to fight everyone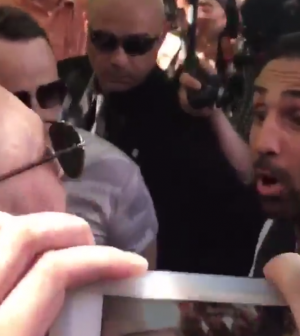 This hype train is FIRED RIGHT BACK UP!
It was the Grand Arrivals today in Vegas for Mayweather and McGregor and it was awesome. I'm kind of a pussy myself, kind of a non-confrontational type of guy. These guys however, are not pussies and love to get into it and that was proven today when walking wherever they were going.
Almost immediately, Mayweather and McGregor's teams got into a shoving match.
Following that McGregor and his old sparring buddy Paul Malignaggi were seen getting into each others face talking some trash. This all stems from the pictures that were released from camp that made it look like McGregor knocked down Paul.
Conor & Paulie get into it. @PaulMalignaggi tells @TheNotoriousMMA "don't forget to bring your balls" #mayweathervsmcgregor @espnlasvegas pic.twitter.com/NjBRRxkqYI

— Helen Yee (@HelenYeeSports) August 22, 2017
Then also McGregor heard a fan talking some shit and tried to get at him as well!
Another one. Conor McGregor is ready to fight. Floyd, Paulie, this guy. You. Me. All of us. pic.twitter.com/s2UgegqrUD

— Brett Okamoto (@bokamotoESPN) August 22, 2017
This is nuts, I'm so excited for this fight to actually happen. It's more of a WWE story-line than an actual boxing match but fuck it, I'm just ready to watch these guys punch each other in the face.