Markieff Morris fined $15,000 for unsportsmanlike conduct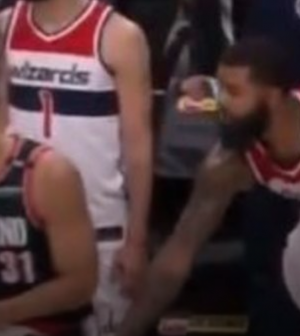 Full transparency, I'm a pretty new basketball fan and all that… started watching cause the Raptors starting winning (during the regular season) and I started paying more attention to the league as a whole and holy shit does it just pump out headlines. The Raptors are one of the biggest stories this off-season and have gotten off to a hot start.
Also to start this season, you have the Lakers / Rockets fight with the drama surrounding did Rondo spit or not. Then the video came out and he obviously spits… but then it turned into did he MEAN to spit. The drama folks, NBA has it coming out the wazoo.
This latest video is just dumb.
Markieff Morris grabbibg Seth Curry's shorts from the bench pic.twitter.com/CRwsFxm7IG

— CJ Fogler (@cjzero) October 23, 2018
Now, I have done no research to see if Morris and Curry are buddies, so they very well could be. But I would still be pissed at my buddy for grabbing at my shorts from the bench near the end of a tied ball game. The NBA didn't find it very amusing either as they fined Morris $15,000. Now that's a pretty pricey grab, but not the most expensive you can make these days.