Markelle Fultz out indefinitely with nerve disorder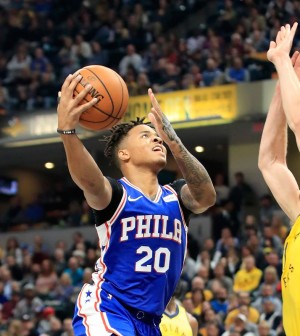 What a whirlwind career it's been for former number 1 overall pick Markelle Fultz.
The curious case of Fultz continued on Tuesday with this agent Raymond Brothers releasing the following statement via ESPN's Adrian Wojnarowski:
"Markelle has been diagnosed with Neurogenic Thoracic Outlet Syndrome, (TOS), a physical injury. TOS affects nerves between the neck and shoulder resulting in abnormal functional movement and range of motion, thus severely shoot a basketball, thus severely limiting Markelle's ability to shoot a basketball. TOS is treatable by physical therapy."
Fultz will be sidelined for an indefinite period of time until he feels the injury has healed enough for him to be able to start playing basketball at an effective level.
The 20-year old has appeared in 19 games this season, and hasn't played since the Sixers' 119-114 win over the Phoenix Suns on November 19. He has averaged 8.2 points (419 field goal percentage), 3.7 rebounds, 3.1 assists, and a 56.8 free throw percentage in 22.5 minutes a game.