Mariners acquire outfielder Mallex Smith in multiplayer deal with Rays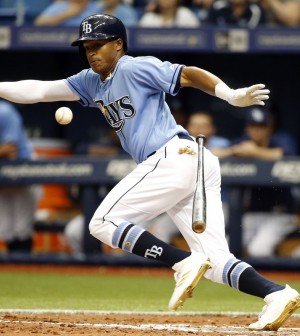 A couple of American League teams agreed on a multi-player deal on Thursday.
The Seattle Mariners have confirmed that they have has acquired outfielder Mallex Smith from the Tampa Bay Rays in exchange for outfielder Guillermo Heredia and catcher Mike Zunino.
Smith, 25, is fresh off the best season of his career; posting a .296 batting average, .773 OPS, 10 triples, two homers, 40 RBI and 40 stolen bases in 141 games this past season. He had spent a year with the Atlanta Braves before his two-year stint with the Rays.
Zunino had spent his entire six-year MLB career with the Mariners prior to this trade. The 27-year old veteran catcher has compiled 391 hits, 95 homers, 241 RBI and a .682 OPS over a span of 587 career games.
Heredia, a 27-year old centerfielder from Cuba, was a below level replacement player for the Mariners in 2018. Over a span of 125 games, he posted a .236 batting average, .661 OPS, five homers and 19 RBI.