Marcus Smart emphasizes Celtics' lack of togetherness following disappointing loss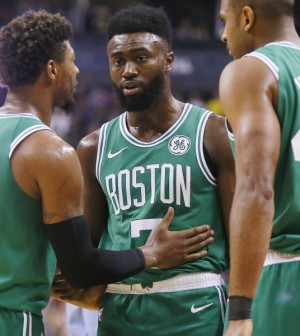 With five losses in their last seven games, including a disheartening blowout loss to the Toronto Raptors on Tuesday night, the Boston Celtics are not looking like a team that was expected to run away with first place in the Eastern Conference prior to the start of the season. So what gives?
Clearly this team has the talent to compete with anyone, but consistency has turned out to be a major problem. According to Celtics guard Marcus Smart, they are lacking the necessary chemistry and trust in each other on the court that will take their game to the next level.
"Nobody is together…We've got to have everybody on the same page doing the same things at the same time." said Smart following Tuesday's 118-95 loss to the Raptors.
"What are the main ingredients to those collapses? Not being together. And that's it. We're just not together. Plain and simple. That's it…Because if we were together, that wouldn't happen. We're all talking and linking up, but like I said, it's something we're going through, and it's something we're going to have to continue to work at and figure it out."
Smart finished with just five points, four rebounds and two assists in 24 minutes of action on the night.
The Celtics (37-24) sit in fifth place in the Eastern Conference. They are currently two games back of fourth place Philadelpha 76ers and 9.5 games back of the first place Milwaukee Bucks. They hope to bounce back when they host the Portland Trail Blazers at TD Garden on Thursday night.